Stop and prevent sexual harassment, sexual misconduct and gender inequity. Get it right in 2018 with our new offering,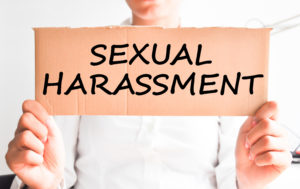 Greetings,
Every day we read about someone new being charged with sexual harassment.
No industry seems to be immune, and some abusers target men as well as women. Responsible organizations are seeking solutions, but they're not sure what to do besides scheduling the old  standby-sexual harassment training.
Yes, it's required for compliance and liability purposes, and yes, it's important for everyone to understand what constitutes sexual harassment. And no, it's not enough to solve the problem or stop your organization from being tomorrow's headlines.
We need solutions that don't put all the responsibility primarily on women to take action.
We need solutions that include everyone in the organization working together to stop inappropriate behavior, sexual misconduct and inequality based on gender.
I've taught sexual harassment in the past, and also facilitated gender communication programs. Based on research, statistics and my experience I've developed a solution that includes and goes way beyond sexual harassment training.
If you want a solution that is sustainable…….
If you want a solution that includes everyone working together……
If you want a solution that works…….then we want to offer you our exciting new program that gets results
This is not a program to just check off a box, or meet the bare minimum for compliance.
This half-day program co-facilitated with a male colleague includes cross-gender dialogue, as well as conversations with managers, to discuss ways to identify and deal with gender issues. Some of these issues may not be obvious, but they could still potentially impact profit, productivity, and reputation.
Here's the exciting part. As of January 1st, this program will be priced at $5000 per session. But because this is such a hot topic and we want to help as many organizations as we can, we are offering a special introductory price of $2500 for those sessions booked by December 31, 2017.
You may schedule your session for any time before June 30, 2018, but to get the discount, we must receive payment before December 31, 2017.
We are also offering additional reduced rates for multiple sessions.
Let's talk about how we can help you start 2018 right for gender equity, a harassment-free workplace, and a productive environment for everyone.
Don't wait another day! Contact us now!  simma@simmalieberman.com   510.697.8226